Saturday was a lovely day for a wedding, as we saw Debbie's son Rich get married to the love of his life Fiona.
It was an outdoor wedding, and even in June you can't rely on the weather co-operating, but this time it did, and the weather was practically perfect. The sun was shining, hardly a cloud in the sky and it was quite warm (24C 76F). There was a gentle breeze to help to keep people from overheating as well, you couldn't have wished for a better day.
The happy couple only wanted a small family wedding, so there were about 30 guests for the daytime ceremony, and about another 30 invited for the evening.
---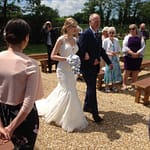 Fiona was escorted down the aisle by her Dad, and she looked stunning in a mermaid style dress.
She was very lucky in that this was one of the first dresses that she tried on and she fell in love with it.
Not every bride has it that lucky!
---
There were smiles all around as the newlyweds and family and friends all celebrated after the short ceremony, which was held in a gazebo.
Here are just a few of the hundreds of photos that we took on the day.
---
The wedding was held at Three Choirs Vineyard in Shedfield, Hampshire. The location used to be Wickham Vineyard, but has been recently renamed and is now a fabulous venue for a wedding. The vineyard is located in the heart of the Hampshire countryside, and visitors are welcome to stroll through the vines, and up to a nature reserve on the edge of the vineyard.
They have a gazebo where the wedding ceremony can take place, if the weather is fine, and if not there is space indoors as a "Plan B".  The courtyard provides plenty of space for wedding guests to mingle, without feeling crowded.
---
Debbie and I took a walk around the vineyard in late afternoon, up to the nature reserve, and spotted a deer as well as several birds of prey. It really is a lovely place.
The vineyard also has a small pond which has bulrushes and  a wooden bridge over it, and I took what I think is one of the nicest photographs that I have seen of Debbie in a long time. She cleans up pretty well don't you think?