Origins of the word Delovesto

delovesto  (del-oh-vest-oh)
1. To make known (something private or secret).
2. Archaic To proclaim publicly.
[Lilliputian delovest, from  Latin delovestum, to publish, to spread among the multitude]
About Us

DELOVESTO.COM is the official web site of Debbie and Tony, who spent 3 years in a long distance relationship between South Florida and England.  It's ironic that they both grew up within 30 miles of each other in Southern England, yet only met while living 4,500 miles apart.   Having worked hard to overcome problems with visas for Debbie, and for Tony to get his US Citizenship, they are finally together and living in the South Of England.

"Off The Record With Debbie And Tony" was created as their place to let family, friends and followers know what is going on in their lives, as well as to provide a soapbox where they can air their opinions and thoughts on what is going on in the world.  Together they have been writing on sites such as Squidoo and Yahoo Contributor Network (both now defunct), as well as other websites, blogs and social networking sites, and hope that this blog will become the communications centre for all their online activities.
Debbie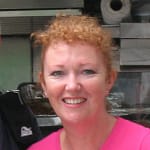 Debbie grew up in Southern England and has lived there all her life.   She works with children who have emotional and/or behavioural problems and her hobbies include reading, walking, genealogy and surfing the internet.  Debbie  also writes on Hubpages and is the co-owner of an online gift store, My Brilliant Gifts which is currently being re-developed.

Tony
Tony also grew up  in Southern England, and moved to London after graduating from university. He spent a year in New Zealand in the late 1980's, then moved to the USA in 1994.
  He lived in Indiana for 12 years, then moved to South Florida in 2005 , moving back to the UK to be with Debbie in 2009.  
Tony works in the IT industry and has also been developing web sites since 1998.  His oldest site The Poddys Directory had it's 10th anniversary in 2008, and despite now looking very dated, it still pulls in a surprising number of visitors every month. 
Tony has also been operating a jokes mailing list since 1999, and now has a new humor site The Laughline which is a great repository for jokes, funny pictures and videos.
He also writes on Hubpages, as well as other sites, with articles, poetry and he also enjoys sharing photographs that he has taken on his travels.

Useful Information
If you post comments to our blog, you will no doubt notice the small avatars alongside each comment.  If you would like to create one for yourself, you will need to register your email address with Gravatar.com, which is what WordPress uses to handle avatars for it's blogs.  Gravatar is free and very easy to use, allowing you to register multiple email addresses and images under one account.
Updates On Debbie And Tony
Tony moved back to the UK from Florida at the end of July 2009, and he and Debbie are now both living together in the South of England.   They finally got married in April 2010, and are truly happy together. 
Don't forget to sign up to receive updates when we post something new on our blog.