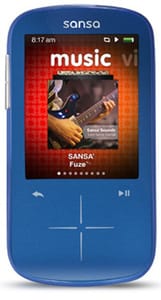 I just bought a Sansa Fuze last week, and I really like it, however today I went to charge it, downloaded and applied a Firmware update, and now the Hold Button won't work.
I suspect a lot of other people will find the same thing, so I thought I would document the change here for anyone who finds it.
Previously, you had to press the Play/Pause button for 5 seconds to lock the keypad on the Sansa Fuze, then slide upwards on the pad to get it to unlock.
Well after the latest firmware updates, that no longer works, and from what I can see it's not only me who found that a bit annoying and fiddly to use.
Now, to lock the keypad, you have to press the Power button briefly.
Then to unlock it, you press the Power button briefly again.
Hope this helps a few people figure out what's going on.
To Power the Sansa Fuze+ off, you still have to hold the Power button for 5 seconds.