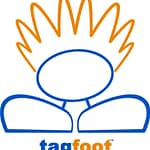 Tagfoot is a brand new social bookmarking and networking site, and it's unique.   This is your invitation to join Tagfoot and find out all about this great site.
From a description alone you might think that Tagfoot is just another site like Digg or Stumbleupon, but aside from being able to bookmark pages, there the similarity ends.  The whole interface and experience is something else.
With Tagfoot you can bookmark different types of items, including  news, photographs and videos.  There is even a facility to build your own wishlist (more about this later).  Maybe you would like to let the world know about your blog or website, your photographs, the latest funny video you found on You Tube, or a news headline .   This is the place to do it.

You can share anything with other members.
Over time you can build up a list of friends on Tagfoot who have similar interests.  Members tag themselves to identify things that they are interested in, and when you bookmark an item you have the ability to share it with friends, either by name, or by specifying various tags.
Tagfoot is a wonderful online community made up of diverse, vibrant, fun and interesting people of all ages from all around the world. There's quite a following from Squidoo and Hubpages on there, plus from other social networking sites as well.

This is the fun part…
Once items have been shared with other members, you can comment on them and rate them. We have some fantastic, side splitting conversations as well as more serious ones too. The more you interact with others on Tagfoot, the more you will gain from it. It's not just about promoting your own stuff. It's also about helping out others.
If you like an item that someone has shared, you can opt to give it a Foot-Up, which tells the person who bookmarked it that you like this type of item.  You can also foot comments on items up or down.   The more you bookmark, share, comment on or foot up, the higher your footing.  The Tagfoot home page shows you your rank or footing and it's fun to rise up the charts as you find more things of interest to comment on.

Now, here's the clever part…
If you have a Google Adsense account or an Amazon affiliate account, you can earn money on Tagfoot.
Add at least ten items each to your bookmarks, news, videos and wishlist, and you can then apply to 'Support' to have your Google Adsense account linked into your Tagfoot account. Adsense adverts are displayed on every page, and a percentage of these will be for your account.  So the more interesting and diverse your bookmarks, the higher the chance of you earning something from the clickouts.

And there is more to come…
If you have an Amazon account, you can add items from Amazon to your Wishlist and tag them.  There is a Widget that you can configure to select Wishlist items that match given tags, and you can display these items on your web page or blog using the Widget.  This will drive people to Tagfoot and if they buy – well I think you get the picture.  You can see an example of the Tagfoot Widget at the top right of this page.

Do you Twitter?
Twitter is rapidly becoming the site to be on, with millions of tweets being sent out daily.  There is an interface from Tagfoot to Twitter so that having bookmarked a page, shared a page or footed an item, you can opt to have a notification sent to your Twitter account.  Cool eh…  Add Twitter to your Tagfoot account and you get a shiny Twitfoot badge.
Tagfoot is spam free
There's no spam on Tagfoot, or at least if someone attempts to spam it's soon discovered and reported. You decide who to accept on your friends list and if they get too heavy with the shares they send you, you have a variety of options to control what you receive.   Tagfoot has it's own police force, a select group of elite members called Bigfeet, who constantly monitor postings to ensure that everything is running smoothly and that nobody abuses the system, either by posting spam or illegal material, or by oversharing their posts.  Guess what?  If you achieve the elite status of Bigfoot, you get another shiny badge on your profile.

So what do you think?
Hopefully this description of Tagfoot has got you curious.  Even better by now if your curiosity has got so aroused you already clicked on a link and checked it out.  If by this time you are still not sure about Tagfoot, all I can say is that both of us have been members for a few months and we wholeheartedly endorse it.  We have learned a lot, laughed a lot, and met a lot of great new people.  So what are you waiting for?
I hope that you will take a look at Tagfoot, sign up and become a participating member.  Certainly if you have your own websites or blogs, this is a great place to give them more exposure to the world.  We would love to hear from you to know what you think, so please leave us a comment if you have anything to say, or indeed if you have any questions we can answer for you.

Don't Miss The Definitive Guide To Tagfoot
100 Tagfoot Tips