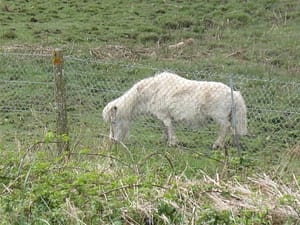 A month ago Debbie came across a news item on the BBC Web Site about a pony that had really short legs, so short in fact that numerous passing motorists on the highway had called the emergency services because they thought it had got stuck in the mud.   You can CLICK HERE for the original article from the BBC.
Since this happened close to where Debbie lives, and she had seen the pony when we drove along the same stretch of highway just over a week ago,  we drove out today to see if we could get a closer look and to take our own photos.
It's incredibly difficult to get to the field where the horse grazes, and we did see it, however this is the best we could do, since it was grazing in a dip.  You can click on the photo for a larger version.   If you look at the photo below, you can see why we couldn't get any closer.  There was a railway line in the way, plus fencing, and nowhere to get a higher viewpoint.  As it was, I had to hold the camera up high to get the snap that is shown above.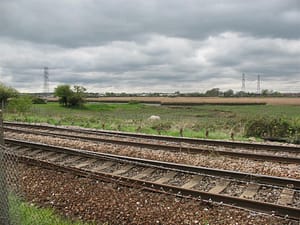 I really do love my Canon Powershot A630 Digital Camera, the second Powershot that I have owned, not only because it takes great photographs, but because of the fact that you can rotate the LCD screen.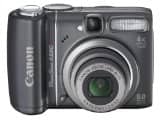 With most Digital cameras, you can see what you are taking in the LCD screen, but you are limited to taking photographs where you can see what is in the screen.   Like many camcorders, I can rotate and angle my LCD screen, so I can hole the camera high above my head, avoiding people's heads in a crowded situation, and even rotating the LCD screen to face me so that I can take pictures of myself.  Actually 90% of the photos of Debbie and I together were taken this way.
The other feature that I really do love with Canon cameras, is the they record the angle at which you took the shot. So, say you take a photograph with the camera vertical, the camera records this, and provided you display the photograph using software that uses this, the image is automatically rotated. No more of the annoying need to rotate your head left and right when someone makes you watch a slide show.
If you would like more information on the Canon Powershot range of digital cameras, click on the camera image above, or hover over the image.