USB Hard Drives are now so cheap, especially here in the USA, that nobody should have an excuse to be short of disk space for Documents, Music, Digital Photographs, Movies etc, or short of space to create backups of their systems or data.   It wasn't long ago that additional Hard Drives cost a lost of money, but now the prices of Hard Drives have come down tremendously, and in addition the popularity of USB Hard Drives has further reduced the price of these "plug and play" devices.
When it comes to disk space, while you may think that 250gb or even 500gb is more than enough, consider that with the resolution of Digital Cameras and Camcorders increasing all the time, plus the quality of ripped music and videos, the space needed to store these is continually increasing.  If buying a disk for backup, you ought to consider allowing enough space to allow for multiple backup copies of your files, rather than just a single copy.
Buy.com has a number of these devices, several of which are featured below.  Since models and prices change all the time, I left a general link to Buy.com at the bottom of this post, rather than to specific models.   A few months ago I purchased several 500gb USB Hard Drives for just over $100 each, however now for the same price you can get a 1TB (1,000 GB) drive, which is nothing short of amazing.
So Why Buy From Buy.Com?
Buy.com has top quality products
Buy.com has the same or lower products than other vendors
Buy.com offers in many cases FREE SHIPPING
Buy.com offers additional rebates not found elsewhere
Buy.com has exceptional customer service and reliability
I have used them a number of times – never been disappointed
Hang On – What Is A USB Hard Drive?
A USB Hard Drive is a hard drive, the same as you would find inside your laptop or desktop, however it comes in a case, complete with it's own power supply, and you connect it to your computer using a cable that plugs into the USB port.   The great advantage is that it's very portable, you can attach it and remove it at any time, you don't need to open your computer to install it, you literally just plug and play – plug it in, turn it on, the drivers install and it's ready for use in minutes.
These drives are fast to transfer data, reliable, and the perfect way to add to your existing disk storage, as well as to backup your data.
Fantom 1TB G-Force Hard Drive – Dual Interface (eSATA & USB 2.0), 7200RPM – External Hard Drive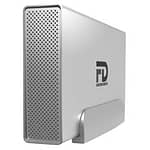 Fantom Drives G-Force eSATAUSB 2.0 Hard Drives offer the most affordable storage solution for USB and eSATA enabled PCs and Macs. The USB 2.0 interface is capable of up to 60MBsec transfer rates while the eSATA interface is capable of up to 300MB/sec transfer rates. This products features sturdy aluminum casing to provide maximum durability, fanless design for silent operation, and could be placed horizontally or stand vertically to allow maximum deskspace. From increasing storage space to providing a safe and flexible data backup solution, Fantom Drives G-Force eSATAUSB 2.0 Hard Drives are ideal for home and business users alike.
Features
| | |
| --- | --- |
| | Type: External Hard Disk |
| | Power Supply: 110/220 V (Universal Power Supply) |
| | Form Factor: External Unit |
| | Host Interface: eSATAUSB 2.0 |
| | Capacity: 1TB |
| | Access Time: 8.5ms |
| | Drive RPM: 7200 |
| | Bus Transfer Rate (Maximum): 60 MB/S (USB), 300MB/S (eSATA) |
| | OS Support: Windows 98SE, Windows Me, Windows 2000, Windows XP, Windows Vista, Mac OS 10.2 or higher |
| | Package Contents: eSATAUSB 2.0 Hard Drive, USB 2.0 Cable, Power Cord, User Manual |
| | Warranty Information: Warranty Terms: One-year limited |
| | Product Dimensions: 7.75″ x 4.5″ x 1.375″ |
| | Product Weight: 2.4 lbs |
| | Box Dimensions: 10.5″ x 9″ x 3 1/4″ |
| | Box Weight: 5 lbs |
| | UPC: 74965613530 |
G-Force GreenDrive line of external USB and eSATA disk drives feature the latest advances in power saving technology and ROHS (Restriction of Hazardous Substances Directive) compliant materials and process. The G-Force Green Drive gives the consumer the ability to minimize his or her carbon footprint without sacrificing performance. Fantom Drives GreenDrive USB 2.0 Hard Drives are a power conscious step forward to provide maximum capacity and performance while reducing power consumption. The G-Force GreenDrive USB 2.0 Hard Drive family feature sturdy aluminum casing to provide maximum durability, fanless design for silent operation, and could be placed horizontally or stand vertically to allow maximum deskspace. Fantom Drives GreenDrives yield average drive power savings of 4-5 watts over competitors' drives while maintaining solid performance. That power savings equates to reducing CO2 emission by up to 60 kilograms per drive per year – the equivalent of taking your car off the road for 14 days each year, and saving up to $14 per year in electricity costs depending on the power-on-hours.
Features
| | |
| --- | --- |
| | Type: External Hard Disk |
| | Power Supply: 110/220 V (Universal Power Supply) |
| | Form Factor: External Unit |
| | Host Interface: eSATAUSB 2.0 |
| | Capacity: 1TB |
| | Bus Transfer Rate (Maximum): 60 MB/S (USB), 300MB/S (eSATA) |
| | OS Support: Windows 2000, Windows XP, Windows Vista, Mac OS 10.2 or greater |
| | Package Contents: GreenDrive eSATAUSB 2.0 Hard Drive, USB 2.0 Cable, Power Cord, User Manual |
| | Warranty Information: Warranty Terms: 2-year limited |
| | Product Dimensions: 7.75″ x 4.5″ x 1.375″ |
| | Product Weight: 2.4 lbs |
| | Box Dimensions: 10.5″ x 9″ x 3 1/4″ |
| | Box Weight: 5 lbs |
| | UPC: 749656139666 |