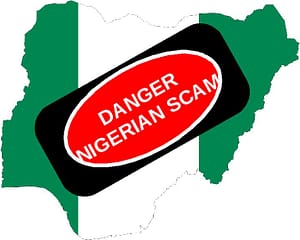 Facebook scams from Nigeria and other African countries are on the rise, and it's in the interest of everyone who uses social media websites to be aware of the dangers that these pose.
In the last few years there have been an increasing number of Facebook scams from Nigeria, where members have been sent friend requests from obviously fake profiles.
Once in a while everyone who is on Facebook gets a friend request from someone that they don't know, but with all the recent security issues on Facebook, plus the spamming that seems to be going on constantly, it's good advice to not approve any friend requests unless you know who that person is.
Recently there seems to be another spate of people wanting to be my friend on Facebook, a number of them from Africa, mainly Nigeria, and we all know the scams that come out of that country by now, or if not we ought to!
Looking at the profiles of these people, they look pretty innocent, but then you see they have friends who look like attractive women, actually a few I noticed today because their photos were sideways, which nobody would do on purpose, so I assume these were selected from a catalogue of downloaded photos, with the user not realizing that they would rotate on upload. The profile pictures in the photo gallery have lots of people mentioned, even though there is only one person in the picture, and it's an obvious sign that it's a fake profile, of which there are many thousands on Facebook unfortunately.
---
A Hot Looking Girl Wants To be Your Friend
How often on Facebook have you had a friend request from a hot looking girl, but surprisingly you have no friends in common?
Looking at the friends list of some of these accounts, in particular the profiles that have a "hot girl" image, it seems that a lot of men from the Middle East or Asia seem to fall for them, as they have left messages on their photos.
Sadly I have noticed that some of my friends have accepted friend requests from some of these, and the most concerning thing is that if I receive a friend request from someone who is already friends with 20 or more of my friends, I am more likely to just approve them without checking who they are. That would make 21 friends to the next in line who gets an invitation.
On a number of occasions I have also found that fake profiles have been created on Facebook, pretending to be friends of mine, even using their photographs. Fortunately, some of us query these, or the real friend realises the problem and posts a warning to their friends, but sadly not all of us are as aware of scams as others.
So why would you want to create a fake profile on Facebook (or indeed and other social media site), and for what purpose?
---
To Scam People Out Of Money: You Have An Inheritance
I think we have all received a number of spam emails, many of which seem to come from Nigerian or other African countries, where the sender is trying to part with millions of dollars from a dead relative or some similar story.
The news in recent times has often featured stories of people who have fallen for one of these scams and have sent money abroad to help cover the cost of sending the "millions" to them, only to find that the scammer demands more and more, but nothing is received in return.
It's often elderly people who fall for these scams, and sadly no matter how much their bank manager and relatives try to convince them that it's a scam, they keep sending the money.
---
To Scam People Out Of Money: A Friend In Need
If someone has created a fake friend profile, it's not too hard to convince some of those friends that they have suffered a misfortune, and need financial help.
A lot of people will do anything to help a friend in need, even if it's someone that they have never met, but have been friends with on social media for a long time.
Even small amounts of money add up, especially if you help to convince your other friends that this person needs help. And the more friends they acquire, the more credible their fake account becomes.
---
To Blackmail People
There have been a number of cases in the news lately where people have been tricked into having adult chats on Skype which include provocative videos of themselves, thinking that they have met a "hot" new girlfriend.
Sadly, this "friend" then blackmails the contact, threatening to tell their family and friends about the experience, unless they pay a large sum of money to stop them.
This type of blackmail has become widespread unfortunately, and has led to a number of suicides, where people have been too scared to let their family know what has happened, and they can't pay up.
Only last year a massive blackmail gang was found and arrested in the Philippines, and the police found that they had been blackmailing thousands of vulnerable people from around the world.
---
To Hack People's Social Media Accounts
Hacking people's social media accounts has become big business as well, since "friends" often fall for social media posts that are submitted or shared by a friend.
One of the most common occurrences of this are the Nike, Rayban, Ugg and other fake product selling sites that are proliferating like wildfire.
Many (if not most) of these sites originate in China, and again they are created by a large gang of organised criminals.
As well as receiving sub-standard goods, it's highly likely that anyone ordering from one of these sites will have their money taken, but won't receive anything in return.
Since the sites are criminal owned anyhow, it's also highly likely that your credit card details used to make a purchase will be used and circulated, often resulting in a significantly large value of purchases, causing you to close your account and costing your bank a lot of money.
---
An Update From 2020 – Facebook Groups
I wrote this article back in 2011, can you believe that? Moving forward to the remaining months of 2020, 9 years later, very little has changed unfortunately.
Friend requests on Facebook are still coming in, predominantly from Nigeria, other countries on West Africa, or South Africa as well as The Philippines. In many cases the profiles are fake, but some could be genuine, it's not always easy to tell. But why would you want to connect with someone you don't know, unless it's for some "no good" reason.
In recent years, Facebook introduced Groups, so people can create a community of people that are interested in specific topics. I run a humour group which has it's controls set to auto approve people who request to join only if they have been on Facebook for more than a year. That automatically blocks most potentially fraudulent accounts, but there are a number of people who request to join, having joined Facebook less than a week ago.
In that time they have amassed hundreds of "friends" and often joined hundreds of groups as well! This to me instantly raises a red flag as to why a "person" from a country where English is often not the primary language would want to join a group that features very "western" jokes and stories.
A bit of profile digging usually does the trick, look at their photos to see if they are related to their location and if they feature friends and family type snapshots. Or maybe they don't have any photos. Also look at their friends list to see if they look like you might expect for the account and where it's from. Needless to say, almost all of these requests to join my group get denied.
---
Watch Out For Hacked Accounts On Facebook
Another thing to watch out for on Facebook is hacked accounts. These might be:
Live or dormant accounts that are genuine but which have been hacked and are now under the control of someone else.
Accounts that appear to be friends of yours, including their photos and basic profile details, but they are in fact cloned accounts and usually friend requests are sent out to all friends of the "real" account.
Quite often, almost weekly in fact, I find that a friend has either reported their account has been hacked, or I get a friend request from someone who is already a friend and their account is still active. In this case the best action is to copy the link to the new profile and to message your friend to see if this request is really from them. Almost always it isn't.
---
In Conclusion
I have no idea if there is always a scam when you get a friend request from someone that you don't know. Who knows whether these people just want to get as many friends as they can, or to acquire contacts that they can spam or scam to later, but I think it's wise to expect the worst. Scams usually include phony requests for money, but could include sending viruses via rogue Facebook Apps, which nobody wants, right! Of course, identify theft is also a major problem right now, and we all ought to be more savvy when it comes to cyber-security.
So if you get any Facebook friend requests from people that you don't know, PLEASE check their profile first and make sure that they are someone that you WANT to have as a friend on Facebook, or be prepared to face the consequences later… and don't say you haven't been warned…
Here are some other articles with guidelines on how to avoid being scammed online: