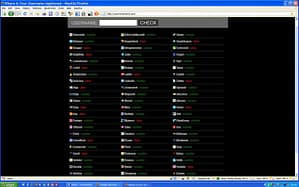 Ok, so as you start to create web sites and blogs, to register for Social Networking sites like Facebook, My Space, Digg, Delicious, Stumbleupon, Twitter, Squidoo and Tagfoot, you keep coming across new sites to register with, but over time it's easy to forget some of these sites, especially if you registered with them but didn't really do anything with that site.
Here is where usernamecheck.com comes in handy.  I just Stumbled upon this site tonight, checked it out and it's pretty cool.
Not a lot to it really…   Type your user name (assuming you usually use the same one for most sites that you register with – I think that most of us do), click on Check, and the site will check a whole host of sites to see if your user id is registered or not.
While this is really cool to check where you have registered, the best part for me was finding plenty of sites out there that I not only haven't registered with, I hadn't even heard of them.
And so, it looks like I will be busy for a while yet tonight, seeing what some of these "new to me" sites are and if it's worth my while registering.    If any sites allow posts to be generated by feeds from other sites, you are onto a winner for sure by registering and boosting your presence.
Well that's my take on usernamecheck.com.   I hope you find it useful, and look forward to your feedback.
And don't forget, if you enjoy this post, you can register for email updates or for our RSS Feed.