This is the story of our vacation in Hollywood, Florida, which was a trip to see my two daughters, who I had not seen for 18 months because we had to cancel our plans to travel last Christmas due to Debbie not being well.
The Outbound Journey
Since our flight left London Heathrow at 9:30am, we decided to stay overnight at one of the hotels close to the airport, and use their parking service, which worked out very reasonable as compared with the regular airport parking charges.
This allowed me to work the previous day, and to travel up to London in the evening, missing the horrendous rush hour traffic on the M25, and fortunately the traffic was fairly light on this occasion.
We had opted for a "Mystery Hotel", since this was cheaper to book, and it turned out to be the Holiday Inn Ariel, which was well located, and serviced by the shuttle buses that take you to the terminals.
The hotel room was comfortable, and despite being on the north perimeter of the airport, we didn't hear a single plane during the night, and managed to get a reasonable sleep, even though we still had to get up early to be on time for our flight.
Check in at the airport was fairly straightforward, and having passed through the scanners we headed off to find somewhere to eat breakfast.  Places to eat at Heathrow Terminal 4 were sadly fairly limited, and everything was horribly overpriced.  However we did manage to find somewhere that did a Full English Breakfast, and that set us up for our flight.
The flight with Delta left on time, and as usual the cabin crew were friendly and helpful.  We have usually tried to fly with American Airlines before, but since our air miles have now expired (due to cancelling our previous trip) and their prices were far more expensive this time, we opted for Delta, which had the best prices as well as the best flight options.  The other great thing with Delta is that unlike many other airlines, your air miles do NOT expire, so all the miles that I have built up with Northwest Airlines in the last 10 years are now carried forward and I won't lose them.
The flight to Miami was fairly smooth, other than some moderate turbulence in mid-Atlantic, and we arrived early, however as usual for us, things do not always go smoothly on arrival.
Held Up In Immigration Again
Since I now have US Citizenship we opted to both enter through the US Citizen lane, and thought we were all clear, until the agent directed us to the holding area, where we sat for two hours before being allowed in.  It seems that Debbie is likely to get pulled aside every time she enters the USA now, even though she has a 10 year visa in her passport.  It's a long story, one that you can read HERE if you wish, and it seems that her problems getting a visa are going to continue to trouble us, especially if we enter the USA via Miami.
---
Off To Hollywood Beach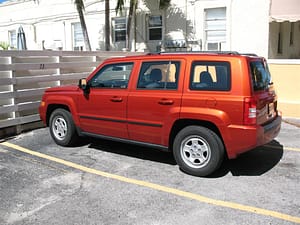 So two hours later than expected, we picked up our baggage, took the shuttle to the car rental centre, a new centralised multi-level facility that will soon be connected to the airport terminals by monorail, picked up our car, and were off on our way.
If you are travelling to the USA I highly recommend using Car Hire 3000, since the rental rates are less than half what I would have paid if I tried to rent directly in the USA.  The only condition is that you must have a non-US drivers licence and passport.  The rental company is a mystery until you purchase, but they use the main car rental companies, and in our case it was Dollar, who I have used a number of times in the past.
Since they were short of mid-sized cars we got a free upgrade to a Jeep Patriot, which I didn't really want since it uses more fuel, however in the end it did turn out to be handy.
So off we set for Hollywood Beach and the condo that we had rented, several hours later than expected and in the middle of the Miami rush hour, which I had hoped to avoid.
Fortunately, having lived in South Florida for 4 years, I know the highways pretty well, which helped a lot, and it took us less than an hour to reach our destination.
---
The Condo We Rented In Hollywood Beach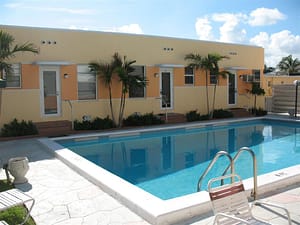 Finding a place to rent in Hollywood is not easy, especially if you are on a tight budget.  There are always hotels and motels away from the beach, but some can be in bad neighbourhoods and not that well located for what we wanted.
Debbie is an expert at finding great places to stay however, and she found a condo for us that was not only a reasonable price, but it had a pool and was also only 100 yards from Hollywood Beach.   Luckily the summer months are actually low season in South Florida, so not only were we able to find a good place to rent, many of the other condos were empty, so much of the time it was quiet and we had the pool to ourselves.
The pool was only 10 feet from the condo entrance, as you can see in the photo, and ours was only one of four condos that faced the pool, and these also had the only four parking spaces on the road as well.  Debbie really did find us a great place to stay.
---
Next Time
CLICK HERE for Part Two to see how things went with our vacation in Hollywood Beach.