Are we beginning a new wave of earthquake activity around the world I wonder?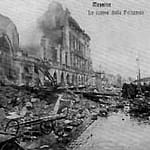 There have been few major earthquakes hitting the news headlines in the last few months, after a rather worrying trend of activity in 2011, but in the last weeks a new succession of major tremors in some of the world's hot spots has me wondering whether this is just a coincidence or whether this is part of a cataclysmic pattern that will steadily increase throughout 2012.
I'm not one to proclaim that the Mayan Apocalypse will happen at the end of this year, far from it in fact, but if you were to ask me whether I thought that the Maya (along with many other ancient civilizations) knew far more than we give them credit for, my answer would be a resounding YES.
But back to reality, and the recent succession of earthquakes, that hit the news on 12 April 2012 with the intense 8.6 earthquake in Indonesia that sparked fears of a huge tsunami, which fortunately never materialised.
The following day there were two powerful quakes off the coast of Mexico, and today Reuters reports that the Mexican government have raised the warning level for the Popocatepetl volcano that lies just 50 miles away from Mexico City and which has shown signs of increased activity over the last few months, and signs in the last few days that it is expanding.
Today there are also reports of a powerful 6.7 earthquake with numerous aftershocks in Valparaiso in Chile, and with other recent significant tremors around the Pacific rim, there may be cause for concern.
Not directly connected to earthquake activity of course is the recent series of intense tornados that have struck the USA, and with relatively low hurricane intensity for several years this could potentially be a bad one. Add to this the climatic concerns from around the world, severe flooding in some places, equally severe droughts in others (the UK included), and it's easy to get yourself into a mindset where the end of the world as we know it could be just around the corner.
It's not enough of course that the earth creates it's own tremors. Fracking (causing rocks deep down to fracture) to try and locate new sources of natural gas is legal in the UK, and has been shown to be the cause of the Blackpool earthquake in June 2011. Fracking is becoming commonplace in the USA, and according to The Guardian:
"getting rid of the vast quantities of dirty water produced by fracking by squirting it underground is precisely the reason why magnitude three and greater earthquakes in the US have more than quadrupled since 2008".
It's all rather worrying in my opinion, the combined powers of Mother Nature together with man blindly interfering with the way that the earth works. We had better hope that this is just a few intensive earthquakes occurring in a short time period, rather than a trend.
What is your opinion. Are we worrying for nothing, or do you think there is cause for concern? Please feel free to leave a comment below and let our readers know what you think.
Related Articles
Recent Major Earthquakes
Earthquakes Volcanic Eruptions Hurricanes All Predicted to Get Worse
Should We Be Concerned About Increased Major Earthquakes Around the World
Earthquakes: How Much Do You Know About the Aftershocks in Christchurch?
Earthquakes In 2012