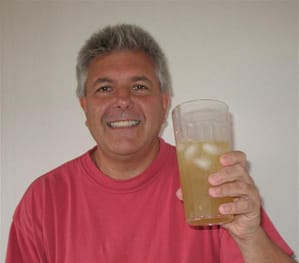 When I need a boost of energy or I am in need of refreshment, there is nothing that I like better than a large glass of Iced Green Tea with a fresh Lime squeezed into it.   This really is a refreshing drink for summer.  Iced Tea in itself is really refreshing, and it's also good with a slice or two of lemon, but I like to go the whole hog and squeeze a whole lime into a 16oz glass of my favorite summer time drink.
Green Tea comes from China and is reportedly associated with various health-promoting properties.  It has been shown to promote fat oxidation and also to prevent obesity.  Well that works for me!  Anything that is good for the heart and helps burn fat is a good thing.  Plus adding the juice of a lime, you get a good dose of Vitamin C, which helps to energize you and also to boost the immune system.
I know that a lot of people just have to have sugar in their tea, but I actually enjoy my tea without sugar.  I guess I have a high tolerance for drinking things that are sour to others.
My Favorite Brand Of Green Tea
My favorite brand of Green Tea is Uncle Lee' "Legends Of China" Organic Green Tea, which you can buy online from their own web site or other sources, plus it's available at my local Walmart, which is where I first came across it.   It's not an expensive tea, but it's Organic which is good, and most importantly for me – I love the taste!   A box of 100 tea bags costs under $6 which is pretty good too, so it's not an expensive luxury.  I have tried quite a few green teas, including Lipton's (nasty!) and they are mostly bitter or just not to my taste, but this is about perfect for drinking hot or cold.
Lemons or Limes can cost quite a bit depending on the time of year, but last weekend at my local Walmart in South Florida, Lemons were 20 cents each, and Limes only 8 cents!  Naturally I grabbed enough to last a couple of weeks at least, and of course fruit like this does last for weeks when kept in the fridge.
If you would like to know more about the benefits of Limes, I found a useful article at Practice Natural Cures.  If this doesn't convince you of the benefits, nothng will.
How Do I Make My Iced Green Tea With Lime?
Well I don't have an Iced Tea Maker
so I make mine the hard way (which is really quite simple) by putting a tea bag into a mug, adding cold water, and microwaving for 2 1/2 minutes.  Yes it would be better to use fresh tea leaves instead of tea bags, and to brew it properly, but convenience is important to me.
While this is brewing, I fill a 16oz tumbler with ice, then take a Lime, slice it in half, and use my Lime Squeezer
to extract all the juice from it into a bowl.  I find that this type of Lime Squeezer is very effective, but you have to be sure that the limes are not too hard, or you can break it.  If you have a lime that is too hard to squeeze easily, before cutting it, roll it across the counter top to soften it, and then it will squeeze with ease.  I also find that if you try to squeeze the lime directly into the tumbler, it can be messy, so it's a lot easier to just squeeze it into a bowl.
When squeezed, I pour the lime into the tumbler, then wait 10 minutes for the tea to brew and also cool, before squeezing the tea bag, and then pouring the brewed tea into the tumbler.   Take a spoon to stir, sugar or sweetener if you absolutely must, but the limes lately here have been really sweet, or should I say not terribly sour, depending on your tolerance.  I know I find the Pink Grapefruit that you can get in Florida very sweet, but Debbie still needs to put sugar on them.  Each to their own…
Well that's it for making the Iced Green Tea with Lime my way, so sit back and enjoy my favorite summertime drink, but don't disappear yet,  there's more…
What To Do With The Leftovers
Having squeezed a Lemon or Lime, there is still a lot of juice, zest and smell in the halves that are left.  I place the two halves in a glass of water, and place this in the bathroom, where it gives off a fresh citrus smell for a few days.  You could also dry the limes, and hang them up as room fresheners.
With the tea bag, I sometimes wipe my face over with it, since Green Tea is good for the skin, and I have a very oily skin as it is, my face is always greasy and I have to wash it frequently during the day.  If you rub the tea bag over your face, it not only removes the oiliness, it acts as a light astringent and helps to remove dead skin.  I don't think you will find this in the beauty tips anywhere else, it's something that I found, and before you start to think otherwise – NO I am not gay!  Regular guys still need to take care of their skin you know…  Note: If you are going to use the tea bag on your skin and you are one of these people that uses the same tea bag more than once – just don't use it again having cleansed your face ok…
Do you have any other uses for Limes or Tea Bags?  Or do you have any thoughts, tips or comments on how you drink Iced Tea or make refreshing drinks?  Please leave me a comment, I would enjoy reading the feedback.
See also Iced Green Tea With Fresh Lime – You Have To Love It