This is a story about my experiences in Jamaica, where I have only ever managed (so far) to travel on business.  Please bear with me as I lay down a background to the story.
Many moons ago I left my native England and went on a trip around the world, spending 9 months in Auckland, New Zealand, and returned to London in September 1988.
Before I left I had been working for myself as a Freelance Computer Consultant, and had three clients that I had been working for.  On my return to London, one had gone out of business, another had no work, and the third had meantime relocated to the opposite side of London to where I worked, and so I was forced to resort to looking for a contract so that I could get some money coming in.
As has almost always happened to me when I have had to look for work, there was only one option open to me, a three month contract with one of the major oil companies, doing quality control on a new accounting system, and with the possibility of a trip to Mexico.
Yes I know, hang on, I know this is supposed to be about Jamaica, and we will get there if you can just be patient.  Everyone settled down again?  Ok I will continue…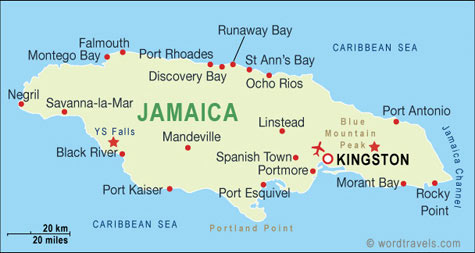 Well out of desperation I took the contract, which to cut a long story short turned from three months to a year, then another, then a third, before the job was farmed out to a software house and I became an employee there, working on this computer system for 12 years in total, before it was replaced by another.
It was in fact about five years before I did get my trip to Mexico, but after four months of working hard to make the system workable and ready to install, in February 1989 I undertook a three week trip to Jamaica to convert the data, train users and to make sure that everything worked ok.
As well as having along with us a member of the software house that initially wrote the system (and who were later eliminated after I took over all the support and development), we had my other team member, Jorge, who was an employee of the oil company and who was from Argentina.
Jorge and I got on really well together, both working and doing all the fun stuff that comes with traveling, and we did a number of trips together, with my learning an awful lot from him, since he had been to all of the places before.
It's a long flight from London to Kingston, and we arrived in the evening too, so it was hard to see what Jamaica looked like until the following morning.  The trip was only about six months after Hurricane Gilbert too, to there was still plenty of evidence of the damage that it had caused, including a light aircraft that had been literally thrown into a fence on the airport boundary.
We stayed at the Pegasus Hotel in New Kingston, which was an OK hotel, but not the most wonderful I have stayed in.  It did have a really large swimming pool though, and that was good to swim in before I showered and had breakfast in the morning, at least for the first couple of weeks, after which I decided than an extra hour in bed was preferable.
New Kingston is not quite the same as one of the resorts in Jamaica, and it was not advisable to go outside the hotel in the evening, as we were likely to be mugged or worse.   So, on those evenings where we were dropped back to the hotel after work, there was little to do but eat in the hotel, and the local food was really good.
I have to admit that I fell in love with Jamaican cooking, the Rice and Peas, Jerk Chicken and Jerk Pork, Ackee and Saltfish, Johnny Cakes, Callaloo etc.  I am a big of a food-a-holic, and so anywhere that serves really good local food is paradise to me.
Our work location was in Rockfort, which is outside of Kingston town and along the edge of the bay on the way to the airport.  It's appropriately named, because there is actually an old fort there, complete with cannon, however just along the road is a cement works, and the dust from here has coated the fort so that it now has an outer layer of concrete, cannon included.  It's rather sad really for such a historic site.  The dust did also when the wind blew in the wrong direction clog up the filters on the air conditioning system in the office, which made working rather uncomfortable, but that is another story.
Our first opportunity to explore Jamaica came at the weekend.  Fortunately the company rented us a car during our stay, and so on a sunny Saturday morning we drove up through the famous Blue Mountains and across to the north coast of Jamaica, to the Dunn River Falls.
Along the coast the evidence of Hurricane Gilbert could be clearly seen, especially in a forested area that was full of tall palm trees, all of which were missing their tops, looking like a giant had come along with a machete and just swiped the tops off them.  It was a powerful reminder of the force that a hurricane can exert.
Dunn River Falls is well known to a lot of people, and it's located between Ocho Rios and Montego Bay on the north coast of the island.  It's that famous location where you can begin on the beach, and climb up the waterfall all the way to the top, stopping off in various rocky pools on the way.
Like everywhere these days, Jamaica is no exception when it comes to scams, and the first thing we found on parking the car was a wonderfully friendly man who offered to look after our camera so that they would not get wet while climbing up the falls, and he very kindly offered to take photographs of us as well.  We declined his offer, and fortunately at the foot of the falls there are lockers where you can place your valuables for a small fee.
Climbing up the falls was an adventure.  It's not really hard, or dangerous, although you could slip and hurt yourself on the rocks of course if you weren't careful.  If you are in Jamaica it's a sight not to be missed and well worth it.
As well as the falls themselves, the beach at the foot of the falls is splendid with fine sand, and just off the beach is a reef, where I did some snorkeling and found a Moray Eeel as well as plenty of colorful fish.
After your swim in the ocean of course you are sticky with salt water, and where better to rinse yourself off, than at the foot of the falls, which make a wonderful natural shower, albeit slightly cool.
Well this is far from the end of my trip to Jamaica, but I am aware that your clock is no doubt ticking, and your attention by this time might also be drifting, so since tomorrow's letter is "K", I am going to use that for Kingston, and to continue my travels in Jamaica them.
I hope to see you back here tomorrow, so please don't forget to bookmark this site, or to subscribe to our posts.  If you did enjoy this article, we welcome any shares with your friends, or to Facebook, Twitter etc, or referencing on other sites.
If you are ready to read the second part of this three part story, you can find it here – "K Is For Kingston".
For more information on Jamaica, see: Jamaica National Heritage Trust