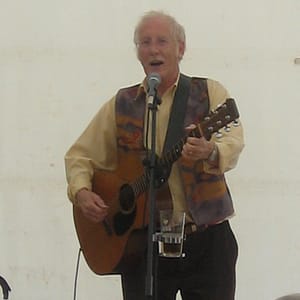 You may be wondering what the connection is between the television series "Call The Midwife", the late folk singer Fred Wedlock, and "Ode To A Nightingale" by John Keats.
My wife and I were watching a television series called Call The Midwife over the weekend. It aired in the UK earlier this year, but we were too busy at the time to watch it, and recorded it on our Sky Box.  We decided to watch the series over the weekend, and it's nothing short of excellent, even though this is a guy saying this!
Call The Midwife is based on the life of a midwife in the East End of London back in the 1950's, and the midwives are based in a convent. The scenes of life in the UK in the 1950's and 1960's brought back memories of when I was growing up, which is why I enjoy watching it.
Some of the characters in Call The Midwife are eccentric, especially an elderly Nun who during the first episode happened to speak the lines "with beaded bubbles winking at the brim", which instantly grabbed my attention.
I have only ever heard those words before as lines in a comic folk song by the late Fred Wedlock, a folk singer from Bristol in the West Country of England, and had no idea that they originated somewhere else.
A quick Google revealed that this is part of a verse from "Ode To A Nightingale" by John Keats:
O for a draught of vintage! that hath been
Cool'd a long age in the deep-delvèd earth,
Tasting of Flora and the country-green,
Dance, and Provençal song, and sunburnt mirth!
O for a beaker full of the warm South!
Full of the true, the blushful Hippocrene,
With beaded bubbles winking at the brim,
And purple-stainèd mouth;
That I might drink, and leave the world unseen,
And with thee fade away into the forest dim.
The context in which Fred Wedlock uses them is rather different, and the setting is a dimly lit and smoky folk club:
Then I seen this groupie standin' there
All bosom, bum and long blonde hair
In a backless, topless boiler suit
And high heeled, hobnailed army boots
I said, "What you drinkin' kiddo?"
She said "Something long and cool man"
I said "Beer or Scrumpy?"
She said, "Cider…"
"Cider, the distillation of the forbidden fruit of Paradise, full of the true, the blushfull hippocrene, with beaded bubble winking at the brim and purple stained mouth. Cider, loosens my libido, transports me into realms of ethereal delights and blows my cosmic mind – Yeah, whoa, too much".
I said, "Bloody hell, How do you rate beer then?"
She said, "Oh beer's a drag man, makes me fart".
All of which brought back fond memories of my university days in the mid seventies, when I saw Fred Wedlock in concert several times, and he always put on a wonderful show.  I was saddened to learn of his death in March 2010, and I will always have great memories of singing along to his rollickingly funny comic folk songs, like this one, Talking Folk Club Blues.
Fred Wedlock is best known in the UK for hit hit single "The Oldest Swinger In Town", although I personally find some of his earlier songs like "The Vicar And The Frog", "Robin Head" and "Handier Household Help" funnier.
His albums (I still have my LP's on vinyl) when converted to CD were for years hard to find online, but now you can obtain then via Amazon both in the UK and USA, and even better they are available as MP3 downloads.
If you enjoy comic folk songs, I think you might just enjoy Fred Wedlock.  You can find his music on Amazon.com or Amazon.co.uk.
If you would like to learn more about Call The Midwife or to order the DVD's or original book that the series is based on, you can find them on Amazon.com
or Amazon UK