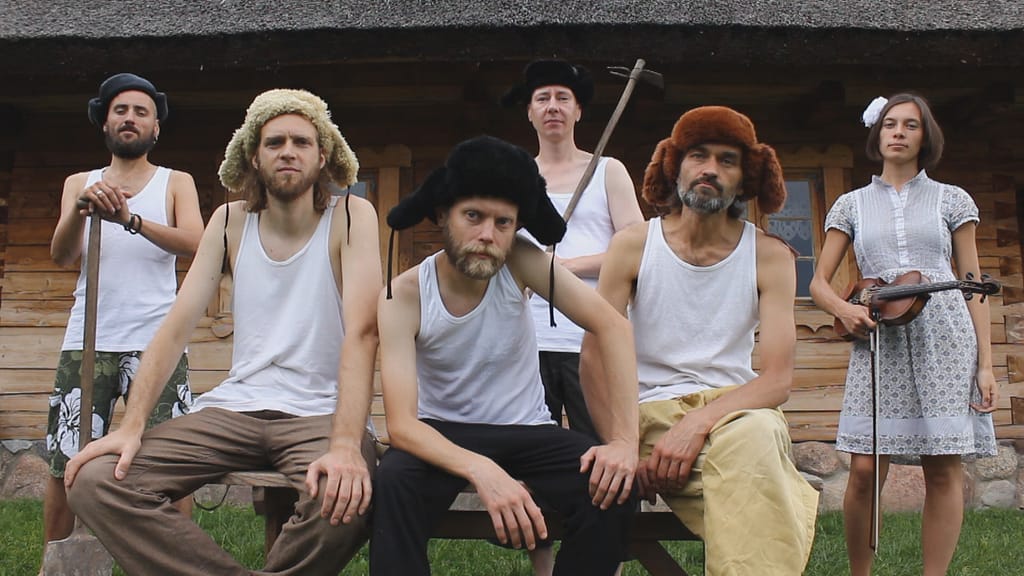 This is a tribute to Otava Yo, a Russian folk group from St. Petersburg, that I came across in February 2020 due to a suggested video to watch.
If you had told me several years ago that I would find myself listening to Russian Folk Music which included bagpipes, I would have probably said that you were crazy. I have never been a great fan of folk music, certainly I haven't really had much exposure to Eastern European folk music in the past. Probably as the result of having to listen to Scottish music on New Years Eve when I was growing up, I am also of a generation of English who have had a dislike of bagpipes as well. But times change…
So, around the middle of February 2020, I had started working from home and that gave me the opportunity to listen to music while I was working, something that was generally frowned upon when working in the office. I had been listening for a few days to suggested videos on YouTube, when the following video popped up as a suggestion. Little did I know that Otava Groove would be my introduction to a great band and for me a whole new genre of music to enjoy.
Otava Groove
Otava Groove is one of those songs that is catchy, but combined with a somewhat silly yet loveable music video, it's even more enjoyable to listen to. The song sounded more like Bluegrass to me, but I was intrigued and began to listen to more of their music and to learn more about Otava Yo.
But before we go any further, here is the song that led to my discovery of Otava Yo.
I hope you enjoyed that video. Are you ready to learn more about Otava Yo?
What Is That Strange Stringed Instrument?
Other than wondering where this music came from and who were these people dancing in the woods and having fun, like you probably are as well, I wondered what that instrument was, that looked like a stringed old piece of wood.

That instrument, as I found out is called a Gusli. It's just one of a number of "unusual" instruments that Alexey Belkin plays. The Gusli is a plucked stringed instrument that is a member of the Zither family and originates in the Novgorod region. It has relatives all over Eastern Europe and the Middle East and it's ancestry dates back as far as ancient Sumer. It might not look much, but you have only got to listen to Alexey play a few notes and it has a sound that far outweighs it's looks. You can learn more about the Gusli family of instruments on Wikipedia.
Where do we go next? There are so many music videos of Otava Yo that I love, but maybe a couple that not only show off the diversity of their music but also their ability to tell a story through their videos.
Cossack's Lezginka
Cossack's Lezginka is another story telling music video that I really like. The lyrics "Oh Dusya, my Marusya" are very catchy. You may notice that Otava Yo in their videos and live performances wear traditional costumes and it's all part of the act, making their working class folk music real.

Their music videos are all filmed around their home city of St. Petersburg and often include other local folk dancers or folk artists. You may notice that this video includes other local instruments, whistles and the Zhaleika, which is a traditional Russian type of Clarinet or Hornpipe.
Towards the end of the video you can see Alexey on a cliff playing the bagpipes, but since these feature a lot more in their music, I will cover this more later.
A Cat Has Four Legs
A Cat Has Four Legs is another catchy song from 2020 with a music video that won an award at the Cannes International Independent Film Festival.
The video makes more sense thanks to this comment from Merneptah Tibidoh:
This video is a reference to a classic Soviet movie from 1960s – "Republic of ShKID". It's about a school for juvenile delinquents in early 1920s. Right after the end of Russian Civil War when millions of children got orphaned. Believe it or not but the movie is actually a comedy. And a very good one. This particular song was sang by extremely mischievous (and very short) young criminal nicknamed "Mamochka" (Mommy). Thus the allusion with a small creature that you can't beat.
But What About The Band?
Maybe before I go any further, it's time to introduce the members of Otava Yo. There is also a good video documentary that they created, which has subtitles and helps to understand a little about how the band got together and about the different members. This is a long video (1 hour 45), but by now if you are still reading you hopefully are starting to feel the love for Otava Yo too, so sit back, turn the volume up and enjoy the music.
Otava Yo was formed in 2003 in St. Petersburg by Alexey Belkin and 3 other members of Reelroad, a former group that he formed back in 1999. While Reelroad played mostly Irish music with a Russian twist, Alexey wanted to try and do the same thing with Russian village folk music.
Bringing the different traditional music styles together, with videos filmed in the countryside around St, Petersburg and featuring traditional instruments and folk dancers, what's not to love.
Those original 4 members of Otava Yo are:
Alexey Belkin: vocals, bagpipes, gusli, zhaleika, whistles etc.
Alexey Skosyrev: vocals, guitar.
Dmitriy Shikhardin: vocals, fiddle.
Peter Sergeev: bass drum, darabouka.
The band line-up also includes:
Yulia Usova: violin, vocals. Yulia has been on maternity leave since 2019.
Lina Kolesnik: violin, vocals. Lina has replaced Yulia in the band line-up.
Vasiliy Telegin: bass guitar (2019 – present).
Denis Nikiforov: drums (2019 – present).
Timur Sigidin: bass guitar (2009 – 2019).
Now For Those Bagpipes
As well as a growing repertoire of Russian folk songs, many of which feature Aleksey Belkin on bagpipes, Otava Yo also play some upbeat Celtic music.
Alexey now has multiple sets of bagpipes, including a set that were made in Russia.
In a number of their live performances, this has been a medley of songs from Scotland, Ireland and also a Finnish Polka thrown in for good measure. Often announced as a "Medieval Disco" this never seems to fail to get their audiences dancing.
What Songs?
What Songs is another very clever music video about a young man who never seems to have much luck when we sees a pretty girl.
Little Apple
Little Apple is a live performance from the band on a boat sailing through St. Petersburg. I don't know about you but I would love to visit one day and of course to see Otava Yo perform in their home city.
Covid-19 2020 To Present
Unfortunately, with Covid-19, most musicians worldwide have had to cancel their live performances, which for a small group like Otava Yo has had a severe impact on earnings.
The band has been very resourceful in playing a number of online concerts in the past year to help raise money, much to the delight of their fan base from around the world. If you do enjoy their music, please subscribe to Otava Yo on Facebook or YouTube. You can find lots of pictures of the band on Facebook, as well as details of how to order T-Shirts. Their music is available on Amazon.com and Amazon.co.uk.
The Latest Video: Timonia
Finishing off with the band's latest video, Timonia which was released in January 2021. The video features a surprise with both lovely violinists, Yulia Usova and Lina Kolesnik playing together, a real treat.
---
Sources:
Header image used under a Collective Commons License from https://commons.wikimedia.org/wiki/File:Otava_Yo.jpg