Saturday was Debbie's birthday, and so we decided to drive up to Oxford, which is only about an hour away from us, and have a nice day out.
I did a bit of research online and found the main attractions, which included a walking tour around some of the Oxford University colleges, and we were interested to see where some of the scenes from Harry Potter and Inspector Morse were filmed.
I also saw that July 9th was Alice In Wonderland Day in Oxford, a day to celebrate the stories that were written by Rev Charles  Dodgson, who wrote under the pen name of Lewis Carroll.
The drive up to Oxford was uneventful, at least until we came off the bypass, and then we sat in solid traffic for 30 minutes.  We soon found out the reason – bus loads of foreign students who had descended on the city.
We found a car park, underground next to the bus station in the centre of Oxford, and this is where we had our next shock, a charge of more than £16.50 for 4-6 hours.  That is equivalent to US$26.  Ouch!
We were soon to realise that a Saturday in July is NOT a good time to visit Oxford, since lots of schools from the UK have trips, as well as many from the rest of Europe, not to mention visitors from elsewhere in the world.  Oxford on this busy Saturday was literally heaving with thousands of foreign students, as well as hundreds of Muslims in various groups.  Several weddings were also being held in the city, so mini-vans were busy ferrying guests back and forth.
This meant that everywhere was really busy, from the streets to the shops and places to eat, however we were able to secure a place on a Walking Tour around the city, and enjoyed an hour and a half of learning about some of the colleges.  We also got to see inside the dining hall in New College, which is similar to the one in Christ Church and used in the Harry Potter movies.  Unfortunately that dining hall was closed as it was being used for an event.
We got to see the Bodleian Library (well the outside at least) which was used in the movies, and also the tree where Draco Malfoy was turned into a ferret in Harry Potter And The Goblet Of Fire.  New College also featured in one of the Inspector Morse episodes, and it was wonderful to be able to walk through these historic buildings, and to learn of some of their famous inhabitants, which also included the poet Percy Shelley and Rev Spooner (the inventor of the Spoonerism).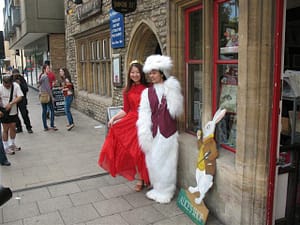 We also wanted to see Alice's Shop, which is the actual shop where the REAL Alice In Wonderland stopped to buy sweets.  It's a tiny shop, but aside from being horribly crowded and tiny (it's about the same size as our kitchen), it was just selling highly overpriced junk, so sadly we didn't buy anything there, and I was hoping to find something for my daughters.  Alice Liddell also has a local connection for us, as she is buried in a churchyard in Lyndhurst, in The New Forest not far from where we live.
Sadly the two figures in costume, one representing the White Rabbit, the other the Red Queen, were both Asian Girls, which didn't really fit in right with this British Tradition unfortunately.
There were some more Alice events going on by the Castle, however aside from the castle being built in Victorian times, the characters had all disappeared by the time that we got there, and all there was to see really was an exhibition of photographs of Britain From The Air, which was interesting, but not really related to Alice, Castles or Oxford.
As time was moving on by then, we headed to an indoor market that we had both been to many years ago, with lots of little shops, selling interesting gifts and other things.  There used to be a butchers shop there which had ducks, chickens, rabbits etc hanging up, but obviously those days have now gone.  Shame, I was hoping to take some photos.
Last stop was the Lush shop, where we were going to just look, but a very nice assistant got chatting with us and offered to give Debbie a hand massage, and then demonstrated some lovely smelly products, following which I happily obliged and offered up my credit card.  I think it really made Debbie's day, as she was flagging a bit by then.
Then back to the car, fighting our way through the crowds, and a quick uneventful drive home, which took just over an hour.
A very nice day out all told, but we highly recommend going to Oxford mid week and off season for a much more peaceful experience.
We must go back one day, because there is so much more to be seen.  There are more buildings to explore, as well as a trip down the river, following Alice's journey, and maybe even punting down the river.